Kidney Failure Ayurvedic Treatment – Karma Ayurveda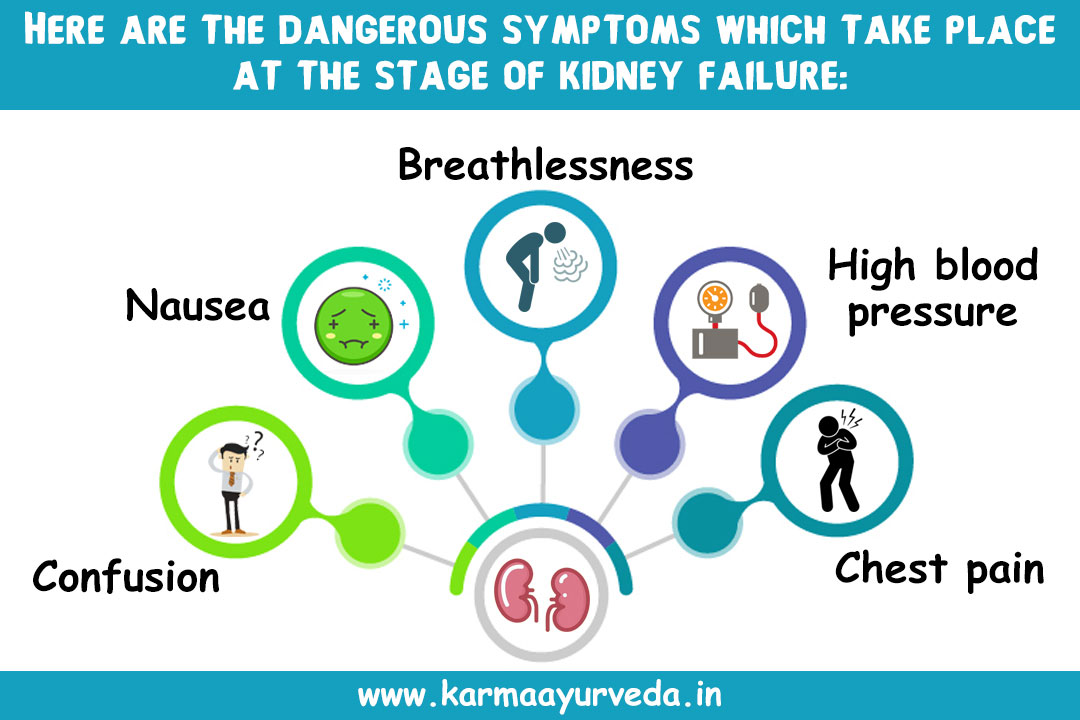 Many persisting kidney disease or disorder damages the kidney continuously and let the condition of kidney failure to take place. This is the situation at which the kidneys are not in a position to perform the necessary functions which is important for the good health of a person. There are many health conditions or disorders which causes kidney failure. Here we are going to discuss kidney failure ayurvedic treatment but before that let's understand the most impactful causes that can let you face this drastic stage:
Diabetes
High blood pressure
Some autoimmune diseases like IgA nephropathy and lupus
Some genetic disease such as polycystic kidney disease
Urinary tract problems
Nephrotic syndrome
The causes which are mentioned above let the condition of kidney failure to occur by damaging the kidneys regularly. Besides this, there are some sudden causes which let sudden or acute kidney failure to occur:
Urinary tract problems or infections
Heart attack
Abusive and illegal use of drugs
Less or inadequate blood and oxygen flow to the kidneys
Ayurvedic kidney failure treatment found to be a very effective way that cures the occurred damage and removes the major causes which are mentioned above. "Chronic Kidney Disease Treatment in Ayurveda"
Can kidney failure ayurvedic treatment relieve the dangerous symptoms naturally?
Yes, kidney failure ayurvedic treatment is purely based on herbs and healthy diet plan that not just remove the causes but also relieves the symptoms of the disease in a natural way. This is the only treatment that keeps the patients away from pain. Here are the dangerous symptoms which take place at the stage of kidney failure:
Less or inadequate urination
Fluid back in different body parts and organs like lungs
Nausea, confusion and chest pain
Vomiting and itching
High blood pressure level
Restlessness and breathlessness
How the stage of kidney failure can be prevented?
Kidney failure ayurvedic treatment not just provides the herbal medications but also suggests the right preventions. By adopting the preventions, one can easily stay away from the condition of kidney failure and so that its complications. Some preventions of kidney failure are mentioned below everyone need to know about:
Eat right and maintain your health
Say no to smoking
Maintain your blood pressure level
Watch your glucose intake if you have diabetes
Exercise regularly at least for half an hour in a day
Why choose kidney failure ayurvedic treatment?
There are many kidney patients who think that dialysis and kidney transplant are the only options to survive being at the stage of kidney failure. The ayurvedic kidney failure treatment provided by Karma Ayurveda is changing this mindset of people. Here Dr. Puneet Dhawan had successfully brought the kidney patient away from the pain and risk associated with dialysis. Reasons which make kidney failure treatment highly effective are: "Karma Ayurveda Review and feedback"
Prescribe medicines made of natural herbs
Never ask the patients to get dialysis or kidney transplant
Never supports artificial treatments
Work to eliminate the root causes
Restores kidney functions and damaged parts