Karma Ayurveda Review – Mr. Santosh Kumar Majhi from Jaipur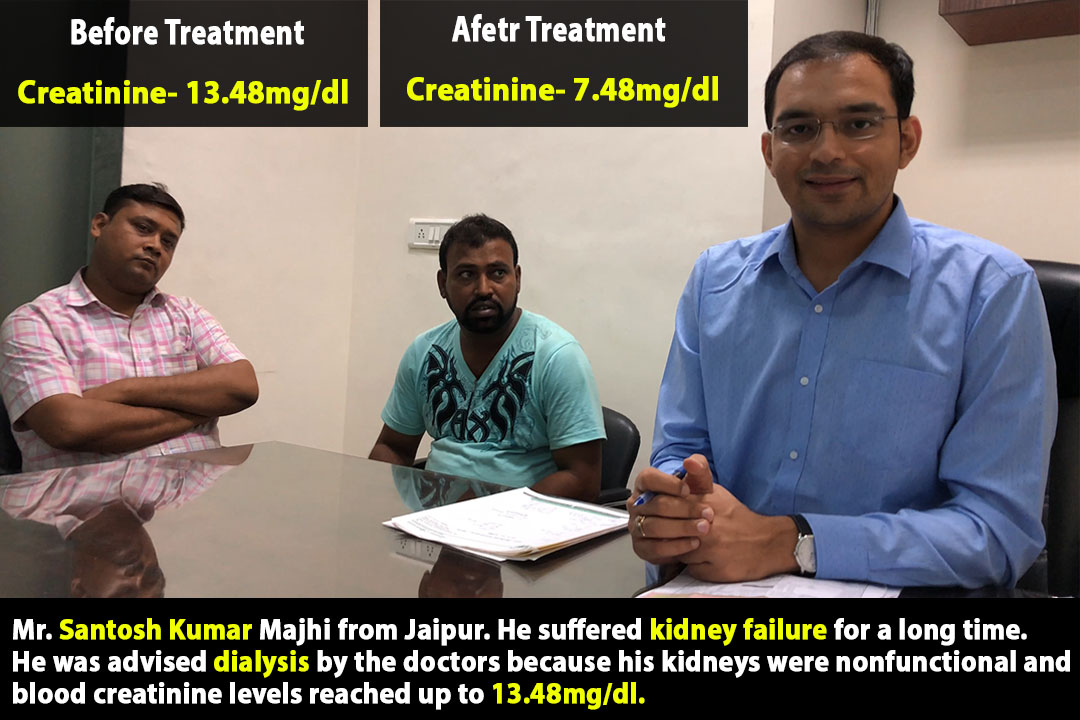 Kidneys have a charge of keeping the body healthy and disease free. In case of their lost function, this very requirement is not fulfilled and the human body becomes weak and vulnerable. Kidney failure is one such dreadful condition of kidneys that is also known as an advanced stage of chronic kidney disease. The diminished ability of kidneys to function gives rise to hazardous waste and toxins deposition in the body. In kidney failure condition, kidney function reduces to 10-15% and blood circulated in the body is impure. With decreased kidney function various other health complications develop like anemia, heart diseases, nervous breakdown, pregnancy complications etc. The patient witnessing the problem of kidney failure gets an indication of his disease by few symptoms such as
a change in urination frequency,
fluid retention in the limbs,
dry and itchy skin,
sensation of vomiting,
seizures
back pain
To reduce all these problems, allopaths present dialysis to kidney failure patients. Kidney Treatment without dialysis. Dialysis is a manmade filtration procedure that is conducted in the absence of healthy kidneys. This technical system is carried out by using a dialyzer and a specialized filtration fluid.
Ayurveda holds an opposite stand of Allopathy. Its natural and herbal approach eradicates the need for dialysis. The stream of line proposes purely nature-based medicines to heal kidneys and assured its zero side effects. Also, Ayurveda claims that Ayurvedic medicines offer a permanent cure for all kinds of kidney disease and liver impairments.
Karma Ayurveda is a well-reputed kidney hospital that provides best of Kidney Treatment in Ayurveda under the guidance of a proficient kidney specialist Dr. Puneet Dhawan. "STOP KIDNEY DIALYSIS" is the agenda of the kidney centre that has been very well executed advising purely natural treatment for all kidney patients.
One such example is of Mr. Santosh Kumar Majhi from Jaipur. He suffered kidney failure for a long time. He was advised dialysis by the doctors because his kidneys were nonfunctional and blood creatinine levels reached up to 13.48mg/dl. He developed several physical problems due to his disease. His depleting medical condition led him to opt for a more reliable and safer treatment option that is Ayurveda.
When he took few months course from Karma Ayurveda his creatinine, fortunately, dropped to 7.48mg/dl. Also, his physical conditions improved and he is now able to carry out his regular day to day work. Such instances of kidney patients make karma Ayurveda one of the finest kidney centers in India.