Karma Ayurveda Review – Kidney Patient Vijay Kumar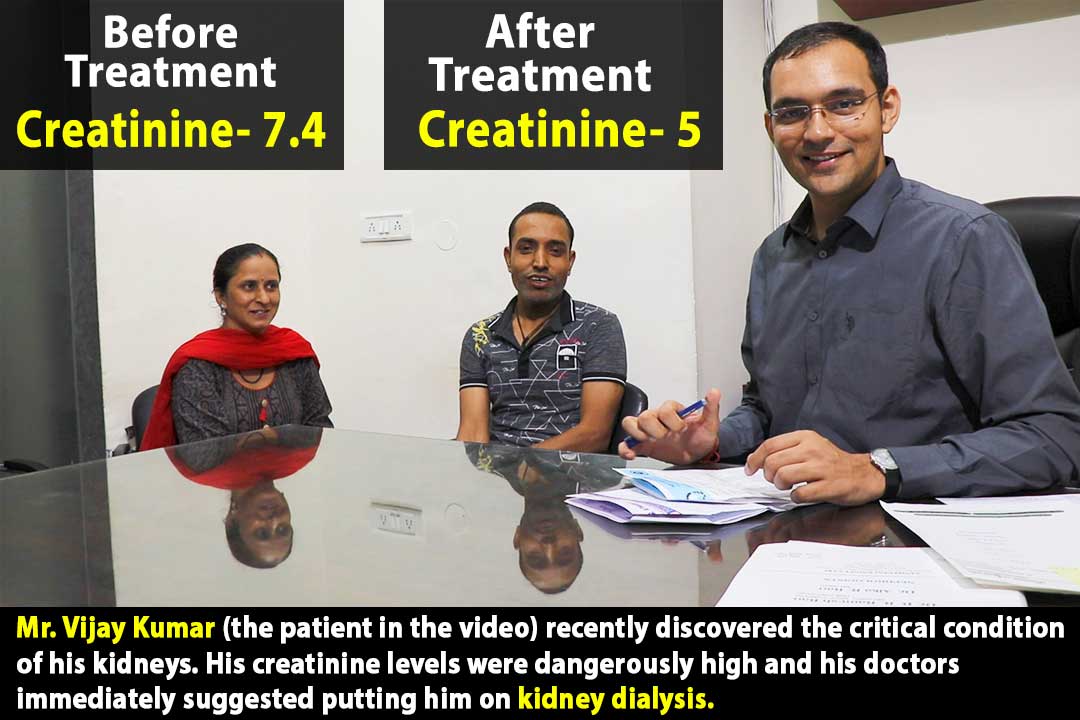 Patient's name: Vijay Kumar
It is highly unfortunate that kidney patients around the world are unaware of the transformation that Ayurveda can bring in their critical condition. They spend millions of dollars every year on kidney dialysis and transplantation, which are not even permanent solutions to kidney failure. Spearheaded by renowned BAMS Dr. Puneet Dhawan, Karma Ayurveda was established in 1937 and stands as a one-stop-solution for treating such kidney patients with its authentic Ayurvedic remedies since then. More than 35,000 kidney patients have successfully been treated under the roof of Karma Ayurveda and the number is increasing rapidly. Let's take a look at the success story of Mr. Vijay Kumar, who has received the most advantageous Ayurvedic kidney treatment from Dr. Puneet Dhawan.
Mr. Vijay Kumar (the patient in the video) recently discovered the critical condition of his kidneys. His creatinine levels were dangerously high and his doctors immediately suggested putting him on kidney dialysis. Thankfully, his wife had known about the miraculous Ayurvedic treatment for kidney treatment by Dr. Puneet Dhawan from Karma Ayurveda through a TV channel. Apprehensive to blindly trust the allopathic doctors, Mr. Vijay Kumar flew to Delhi to see Dr. Puneet and has been obtaining Ayurvedic treatment for kidney disease from Dr. Puneet Dhawan since then. In the review video, he, along with his wife, shares his life-altering experience and journey towards healing with Dr. Puneet's revolutionary Ayurvedic medicine and diet chart. Let's take a look at some highlights from his Karma Ayurveda experience:
High creatinine level which was 7.4 gets diminished to 5
Spectacular improvement within 15 days of starting the treatment
The patient is currently out of the protocol of kidney dialysis
Boosted stamina and insusceptible framework
He would now be able to take a shot at his own
The patient was told that he has no other option besides dialysis. His swelling, headaches, and vomiting were pulling him down but since he got the right advice from Dr. Puneet Dhawan, he came out from the dialysis protocol. His wife's excitement, overwhelm and thankfulness is clearly evident in the video as her husband's serious condition was successfully treated. She showered Dr. Puneet with blessings and love for giving her loving husband another blooming chance.