Karma Ayurveda Review – Jagmohan Singh Bhisht from Delhi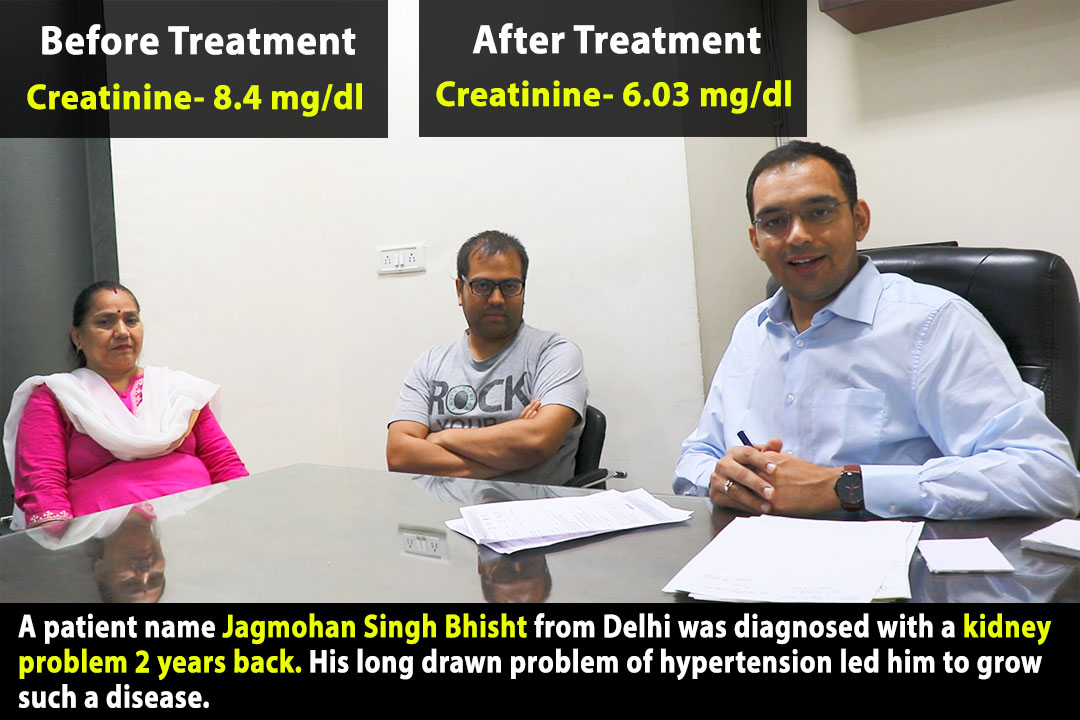 Patient – Jagmohan Singh Bhisht
Kidney disease, the reduced functioning ability of the kidneys, when prolongs, results in complete loss of kidney function. This condition is termed as kidney failure. Kidneys are the natural filters of the body that throw out waste and toxins via urine. Creatinine is a form of waste that is produced by the body while energy production. This waste is thrown out of the body each day. The levels of creatinine progressively rise when kidneys become unable to perform its specified functions in kidney disease. Increased levels of creatinine are a clear indication of impaired kidneys.
Ayurveda, a traditional mechanism to treat kidney disease is an age-old technique. This procedure entails the use of nature-based products to heal damaged kidneys. The Ayurvedic treatment measures are safe and have long-lasting effects. The main agenda of Ayurveda is to treat the root cause of the problems and not the problem itself.
Karma Ayurveda is a well-established kidney hospital that provides the best Kidney Treatment in Ayurveda with the assistance of an experienced ayurvedacharya Dr. Puneet Dhawan. A large variety of patients with kidney disease gets treatment courses from the centre and experience improvement in their health.
A patient name Jagmohan Singh Bhisht from Delhi was diagnosed with a kidney problem 2 years back. His long drawn problem of hypertension led him to grow such a disease. Due to this, his creatinine levels rise to 8.3 to 8.4 mg/dl. The allopaths also advised him to take up dialysis but his medical history of a stroke didn't allow him to adopt such a treatment mechanism.
Mr. Jagmohan Singh Bhisht thought to choose a safer kidney disease treatment i.e. Ayurveda. He adopted a 3 months course of Ayurvedic medicines forms Karma Ayurveda that resulted in decreasing the creatinine levels to 6.03mg/dl. Also, the physical symptoms of kidney disease also reduced to normal. Such success stories of kidney patients build a strong trust in Karma Ayurveda. Because of this trust, many patients visit the centre every day and heal their kidneys with safer Ayurvedic measures.