Karma Ayurveda Review – Bhupesh Joshi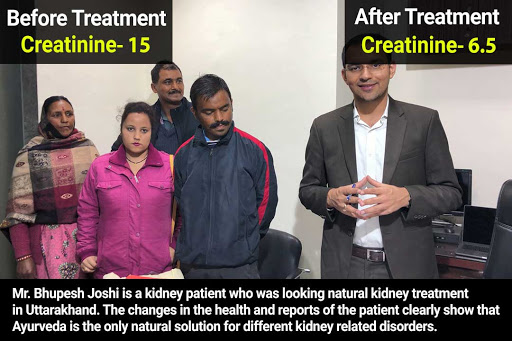 Today a number of people are diagnosed with kidney related disorders and issues in India and so that in Uttarakhand, but are not able to get adequate treatment for kidney-related disorders. Mr. Bhupesh Joshi is one such kidney patient who was looking natural kidney treatment in Uttarakhand which can cure kidney disorder without suggesting any artificial procedure such as dialysis.
Being at the stage of kidney failure, the patient was tackling with many health related disorders and complications which are as follow:
Feeling of fullness without having (eating) anything
Unable to work and walk
Breathlessness even without working
Weakness
But after getting ayurvedic kidney treatment without dialysis from Dr. Puneet Dhawan, Mr. Bhupesh Joshi (the patient) got free from all the above-mentioned health complications. Well, ayurvedic kidney disease treatment not only freed the patients from such health complications but also bring the level of different compounds in range, which got misbalance at the stage of kidney disease. Let's have a look at the range of such compounds:
Creatinine level of the patient which was 15 mg/dl got reduced to 6.5 mg/dl
Blood urea level of the patient which was 376.2 mg/dl before got reduced to 116 mg/dl
The changes in the health and reports of the patient clearly show that Ayurveda is the only natural solution for different kidney related disorders. This natural way never asks the patients to approach artificial procedures such as dialysis and kidney transplant. If you want to know more about the experience of Mr. Bhupesh Joshi, then watch the video. If you or anyone close to you is facing any kidney-related complication and is looking a natural solution for the same, then Dr. Puneet Dhawan will help you out in the most adequate way. Here we are discussing the major causes of kidney disease; we all should stay aware of. These causes are:
Diabetes
High blood pressure
Polycystic kidney disease
A kidney infection
Glomerulonephritis
An obstruction in the urinary tract
If you are diagnosed with any such health complication then you are advised to take proper treatment for the same, to stay away from the complications of kidney diseases, Karma Ayurveda.