Is Kidney Treatment in Ayurveda a Myth or Truth?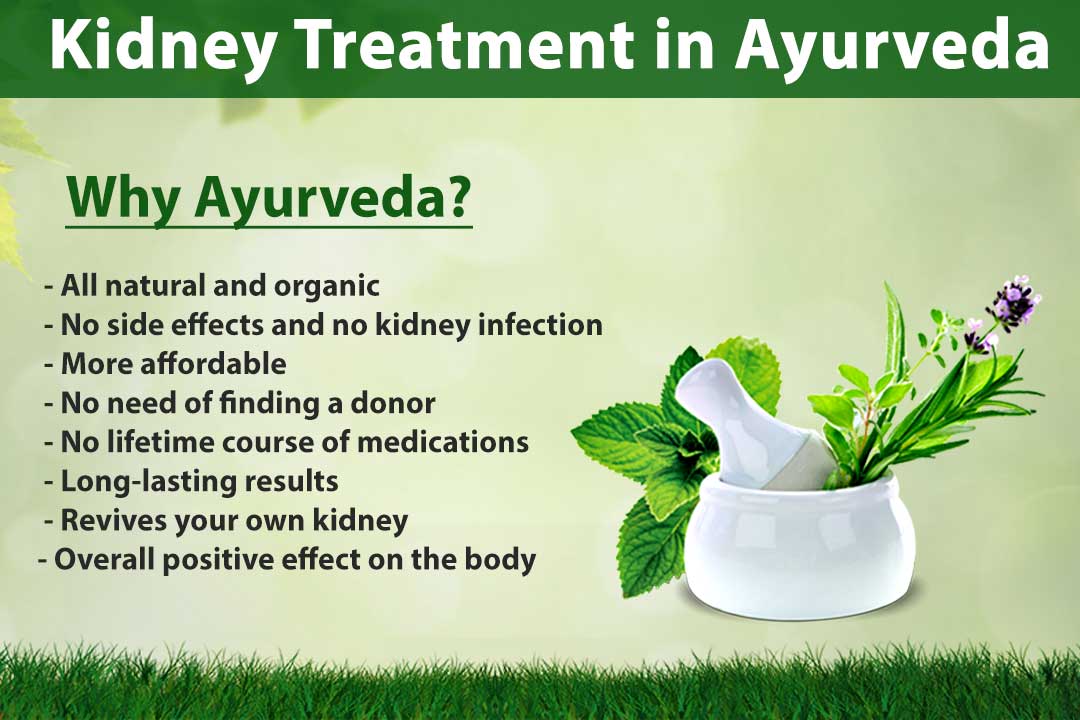 These days when the lifestyles are getting more and more dependent on technology, comfort, and unhealthy food habits, people are facing countless problems pertaining to their health and overall wellbeing. Every roadside clinic and the hospital is flourishing with innumerable patients and expensive treatments every day. These emerging health hazards include a lot of kidney problems and even kidney failures, which indulge the patient in the vicious circle of kidney dialysis and kidney transplantation. But if we take the road less taken, kidney treatment in Ayurveda has a proven record of effective, side effect free and hundred percent safe cures. Let us take some time out today to discuss reaping the fruits of this age-old science for Ayurvedic treatment for kidney failure.
What is Ayurveda?
The term 'Ayurveda' is a glorious amalgamation of two simple words of Sanskrit origin – ayuh (life or longevity) and Veda (science or sacred knowledge). This translates the basic definition of Ayurveda as the 'sacred science of life', which connotes a holistic tradition and lifestyle of wellness. Besides aligning us with our truest internal nature, Ayurveda also helps us in recognizing and developing our strengths. It can readdress our detrimental tendencies and aid us in maintaining balance at hard times. Meaning much more than just herbal formulas, Ayurveda encourages all to proactively participate in their own healing journey. Ayurveda implies that there are some natural elements, whose unique combinations are called doshas. Let us throw some light on Ayurvedic Treatment for Kidney Failure.
Why Ayurveda?
All natural and organic
No side effects and no kidney infection
More affordable
No need of finding a donor
No lifetime course of medications
Long-lasting results
Revives your own kidney
Overall positive effect on the body
Chronic Kidney Disease Treatment in Ayurveda with Karma Ayurveda
With the mission of reviving the Ayurvedic science of healing and integrating it with the modern-day medicinal advancements to offer the safest, most effective and affordable treatments for chronic kidney failure, Karma Ayurveda was established in the year 1937 in New Delhi, India. Karma Ayurveda promises to treat a wide spectrum of kidney problems with hundred percent natural, effective, long-lasting and affordable resolutions.
Karma Ayurveda is one of the oldest Ayurvedic kidney wellness clinics in Asia
More than 35000 kidney patients cured
Successfully operating since 1937
Provides optimum herbal treatment and dietary advice to patients
80% of patients report noticeable improvement within the very first month of treatment
Dr. Puneet Dhawan for optimum Ayurvedic Medicine for Kidney Failure
Dedicated to working on the path of his ancestors in touching and transforming the lives of ones who need it the most, Dr. Puneet Dhawan is an eminent doctor and a well competent Ayurveda practitioner in New Delhi. He is highly appreciated for building a huge brand name in the hospital industry with his amazing works. Dr. Puneet Dhawan has dealt with and cured thousands of patients suffering from kidney problems with his awe-inspiring Ayurvedic know-how. Opposing the suggested treatments that majorly include dialysis and transplant, he focuses on finding paramount alternative medical solutions in the shade of Ayurveda. This way, he has also surprised experienced medics over the globe with a large number of successfully treated patients, who have shown significant and speedy improvements with his treatment cycle of Ayurvedic medicine for a kidney.
For kidney patients who have lost all hope and are on the verge of surrendering to their fate unarmed, Dr. Puneet Dhawan brings a ray of hope. He confidently focuses on regular accurate reports, assistance, and dietary advice, which have garnered him lots of love and respect from patients scattered all over the country. With his authentic Ayurvedic medicine for kidney disease, the well-acclaimed medic has treated more than 35,000 patients worldwide. His herbal medication, based on the crucial secrets of Ayurveda, has brought sunshine in the lives of many. Every year, hundreds of patients commute to Karma Ayurveda in Delhi from other states of India and many foreign countries also to invest their trust in Dr. Puneet Dhawan. It is truly a gift that his hands have never let any patient down and that too, at many affordable fees as compared to his other counterparts in the field of medicine.