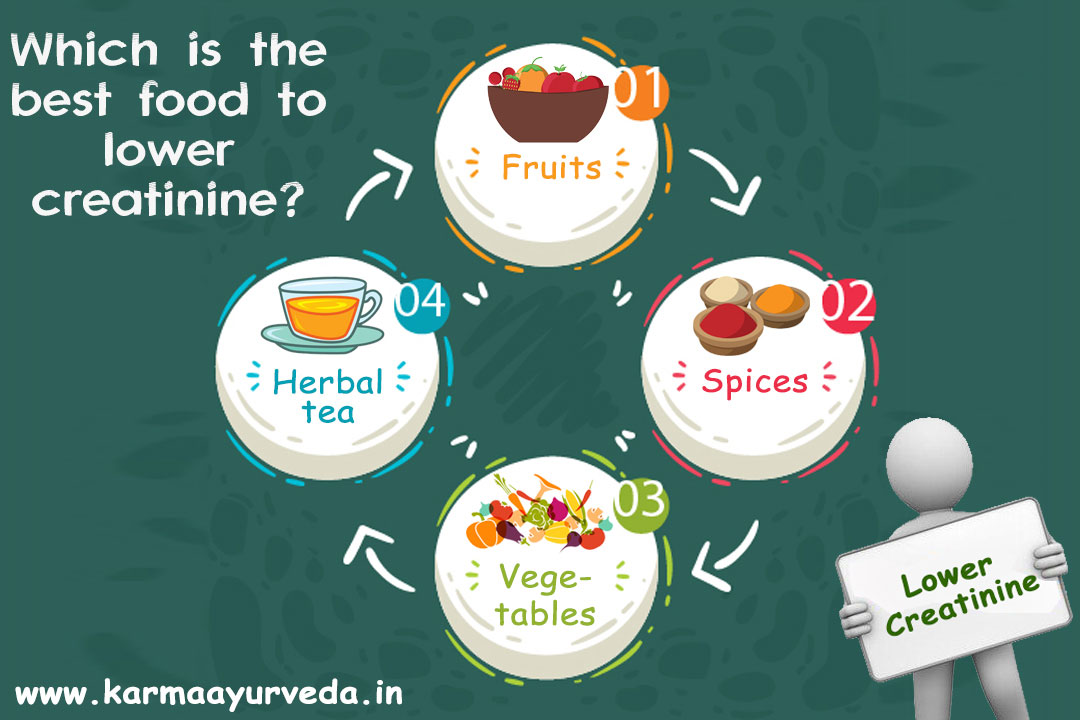 A person's eating habits and diet put a great impact on his health. Hence it is important for all to eat what will not become a cause for the dangerous disease. Like every other disease, eating wrong make you a kidney patient. Today the number of kidney patient is rising rapidly as people had adopted an unhealthy lifestyle and diet. With the emergence of kidney disease, the fault in the overall functions occurred. This depletes a person's health in a major way. "Food to Lower Creatinine"
Creatinine is a waste compound which gets excreted by the kidneys from the body. At the stage of kidney disease, your kidneys are unable to excrete this waste compound which makes the blood contaminated. When the symptoms of kidney disease occur, the doctor asks the patient to get the serum creatinine level test done, which helps to depict the kidney disease. The high level of creatinine can get lower with the right diet and treatment. Here is the food to lower creatinine which a kidney patient should know about.
Which is the best food to lower creatinine?
Fruits- Some fruits such as kiwi, cranberries, and blueberries help to lower the creatinine and to manage the damage of kidneys.
Herbal tea- Salvia, dandelion root and corn silk are some of the ingredients which help to low the creatinine level. Kidney patients can use these ingredients to make an herbal tea.
Vegetables- It is very important for all to add vegetables in their day to day life. Vegetables like bitter gourd, red bell pepper, Cucumber, and onions, helps to low the creatinine level.
Spices- Cinnamon is the only effective spice which helps in the reduction and elimination of creatinine from the blood. Patients can use this as an ingredient in their diet. IGA Nephropathy Treatment in Ayurveda
This food to lower creatinine can be very helpful for kidney patients. Besides this, it is also important for a person to understand different aspects of kidney disease as it a common health disorder. These aspects include symptoms, causes, and risks of kidney disease. Symptoms connected with kidney disease are:
Fatigue and tiredness
Difficulty while breathing
Dizziness and weakness
Less and weak concentration level
Itchiness of skin
Swelling in different body parts
Vomiting, nausea and upset stomach
Heavy or less flow of urine
Cloudy or foamy urine
Dark colored urine
Hypertension or high blood pressure level
Ayurvedic treatment for creatinine
The waste compound can affect a number of organs inside your bodies. These compounds can get build up inside the blood vessels and can create a hindrance in the overall functions of your body. Hence it is important for you to go for the most adequate treatment that can help in the removal of waste compounds and can repair the damage occur inside your body. Kidney Failure Treatment in Ayurveda
Ayurvedic treatment for creatinine helps for the overall removal of this waste compound and treats the damaged occurred inside your body. It helps in the removal of excess and contaminated fluid. Karma Ayurveda is the utmost destination where you can get pure natural kidney treatment. Here, Dr. Puneet Dhawan recommends a natural and much effective treatment to all who want to be away from surgical treatments. "Food to lower creatinine"