Karma Ayurveda Kidney Patient Review – Mr. Sandeep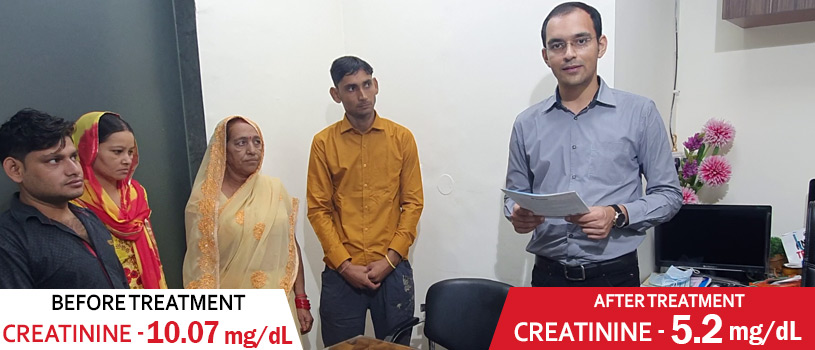 Creatinine level reduced from 10.07 mg/dL to 5.2 mg/dL.
Patient Name – Mr. Sandeep
Karma Ayurveda can eliminate the need for dialysis just with the help of Ayurveda.
What is dialysis, and why there is a need for dialysis? Dialysis is a procedure in which an artificial machine is used to execute the functions of your kidneys. It is an allopathic treatment that is usually advised to control the creatinine level in your blood. Creatinine is a waste product that must be eliminated by healthy kidneys. If there is a presence of creatinine in your blood, then this condition of your kidneys must be treated timely.
There are mainly two types of dialysis that are usually prescribed by the doctors that are:
Hemodialysis
Peritoneal dialysis
If dialysis is not able to control your creatinine level and if it goes beyond the controllable limit, then allopathic doctors may advise you to go for a kidney transplant. Kidney transplant is the ultimate treatment that is prescribed by the doctors when your kidneys got failed. The same case happened with Mr. Sandeep, who is from Bhiwani, Haryana.
Mr. Sandeep was diagnosed with kidney disorder and taking treatment from a well-known hospital in Gurugram. He was advised there to go for renal transplant surgery. Before that, he was taking allopathic medicines to control the symptoms of this disorder, but no significant improvements were seen on his health. While receiving treatment from an allopathic doctor, he was facing many health-related complications like reduced appetite, fatigue, weakness, and problem in urination.
At one point in time, he was advised to go for renal transplant surgery. Then he decided to choose Ayurvedic treatment from Karma Ayurveda. When he came to Karma Ayurveda, his creatinine level was around 10.07 mg/dL.
He has followed all the guidelines and taken Ayurvedic medicines that were recommended by Dr. Puneet Dhawan. Because of these guidelines and Ayurvedic medicine, there was a tremendous improvement in his health.
When he reaches Karma Ayurveda, his creatinine level was approx 10.07 mg/dL, and after taking Ayurvedic medicines, his creatinine level reduces to 5.2 mg/dL. After taking Ayurvedic medicines, he also felt tremendous improvement in his health, like now he is feeling hungry and more active.

His treatment proves that Ayurveda can reduce the creatinine level without using any risky therapies like dialysis and kidney transplant.
Karma Ayurveda is well known for rendering Ayurvedic treatment that can revive the functionality of your kidneys naturally. We have a vast history of 35000 kidney patients cured without dialysis and kidney transplant. If you are facing any renal disorder, then you can book your appointment and can consult from our specialized team on call.