Karma Ayurveda Kidney Patient Review – Mr. Mahesh Chandra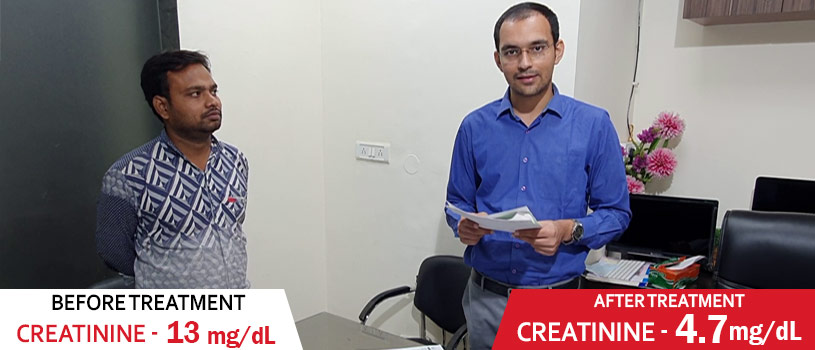 Creatinine level reduced from 13mg/dL to 4.7mg/dL
Kidneys are the pivotal organs in the body that are very helpful in keeping the body healthy and well working. Kidneys perform blood cleansing and removing wastes, excess fluid, and impurities from the blood and throw them out of the body with the urine. And we all know how vital clean blood is for our health.
But when these organs become impaired, they may lose their functioning ability due to which the level of wastes starts accumulating in the blood. Consequently, many health complications can take place, so treating kidney diseases and their complications are necessary; otherwise, the condition can lead to kidney failure.
Here, we are sharing the post-treatment experience of one of our patients, Mr. Mahesh Chandra, who is from Agra district of Uttar Pradesh. Due to chronic kidney disease, he was facing many health problems like body swelling, difficulty in walking, loss of appetite and weakness, etc.
He was taking treatment from a hospital in Agra, where doctors were told him to undergo dialysis or kidney transplant. The relatives of the patients were aware of the limitations of dialysis, so they didn't say yes for it.
During that period, one of his close relatives told him about Dr. Puneet Dhawan at Karma Ayurveda and his treatment protocol. So, he thought of giving Ayurveda a try. He visited Karma Ayurveda with all his recent test reports. His Ayurvedic kidney treatment started under the guidance of Dr. Puneet Dhawan as per his health condition.
Soon, after the initialization of the treatment, he started witnessing improvement in his health condition, and his body swelling got disappeared within three days of treatment.
After following treatment for three months, his creatinine went down to 4.7 mg/dL and blood urea to 43 mg/dL. While before the Ayurvedic medicine from Karma Ayurveda, his creatinine was around 13mg/dL, and blood urea was 141 mg/dL, which is far higher than the normal levels. So, you can see the big difference of figures that indicate how effective Ayurvedic treatment is for kidney patients.

After continuing treatment, he is noticing good health conditions such as feeling active & energetic, good appetite, improvement in sleep quality, and free from all kinds of swelling in the body. He followed the entire Ayurvedic treatment procedures as directed and hence, now out of the protocol of dialysis. That is how Karma Ayurveda has set another kidney patient free from the complications by curing his kidney disorder.
If you are afflicted with any kidney disease, feel free to contact Karma Ayurveda for the best and natural kidney disease treatment.