Karma Ayurveda Kidney Patient Review – Mr. Gulshan Kumar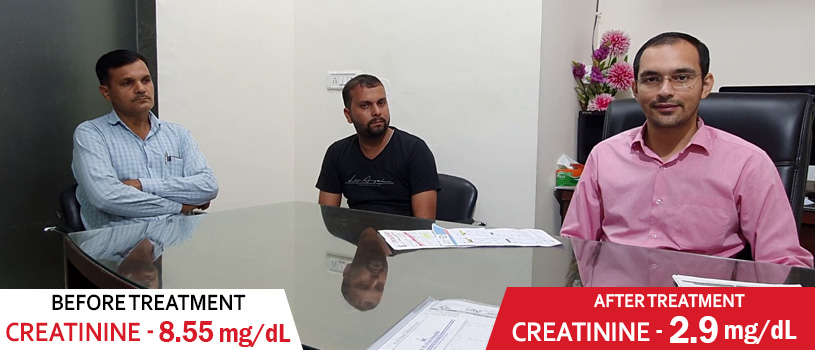 Creatinine level reduced from 8.55mg/dL to 2.9mg/dL
Patient Name – Mr. Gulshan Kumar
Kidneys are one of the essential organs in the human body that perform a large number of functions for keeping the body healthy. But when the kidneys fall impaired, they may lose their functionality either temporarily or severely as well. These days, kidney diseases have become a significant problem for the world because the number of kidney patients is in increasing trend.
And where the limit of Allopathy ends, the work of Ayurveda starts. Ayurveda is showing a ray of hope for kidney patients because it possesses the potential of curing all kinds of kidney disorders permanently.
The ayurvedic treatment provides sacred herbs and some conventional treatment procedures for eradicating complications as well as deep causes of kidney disorders. The best part of Ayurvedic treatment is that it doesn't use any surgical procedure or drug-based medicines, so the chance of side-effects is minimum. Karma Ayurveda has been engaged in making people aware of the effectiveness of Ayurveda in kidney disorders.
Here, we are going to tell you about the Ayurvedic treatment journey of one of our patients Mr. Gulshan Kumar and his experience at Karma Ayurveda. Mr. Gulshan got some health complications and visited a physician near him, and his physician recommended him some medications and asked him to undergo some lab tests.
In his test reports, it became visible that there is some problem with his kidneys. Due to this, his creatinine and urea level was high, which were 8.55 and 123.9 mg/dL, respectively. Besides, some other parameters were also abnormal that indicate serious health of the kidneys.
As a result, he was facing many physical problems like swollen feet, reduced hunger, difficulties in sleeping, etc. He was taking Allopathic treatment but was not noticing any improvement in his health condition. At the same time, he got to know about Karma Ayurveda on YouTube. Getting satisfied by watching many patients video, he thought of contacting Karma Ayurveda. This is how Mr. Gulshan reached Karma Ayurveda.
After seeing his test reports and analyzing health conditions, his Ayurvedic treatment started under the skilled guidance of Dr. Puneet Dhawan. After following the treatment for a couple of weeks, he noticed the improvement in his health condition and kept his treatment continued.

Ayurvedic treatment improved his condition so much, and after three months of treatment from Karma Ayurveda, his creatinine went down to 2.9 mg/dL, and urea also reduced to 70.4 mg/dL. Besides, other factors also become normal, and now he is feeling healthy and more energetic. This is how Ayurvedic treatment changed his life, and he is free from the danger of dialysis. Now, you can understand how effective Ayurvedic treatment can prove for kidney diseases.
Contact Karma Ayurveda if you are facing any complications related to kidney diseases.