Karma Ayurveda Kidney Patient – Mr. Akhilesh Bajpai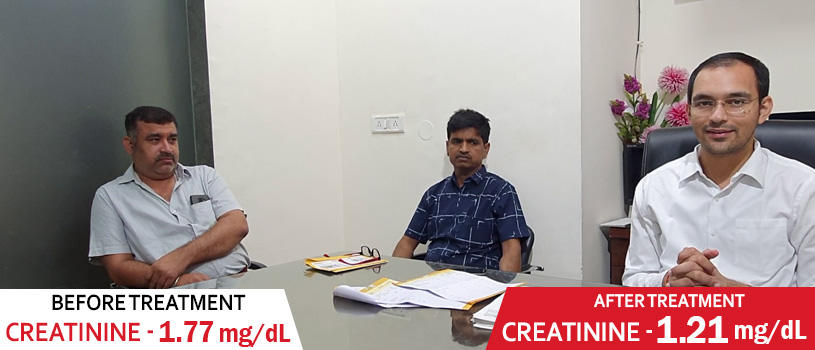 "Due to his faith in Ayurveda, Mr. Akhilesh Bajpai contacted Karma Ayurveda that changed his life forever." 
Kidneys play a pivotal role in keeping the body healthy by performing some necessary functions such as blood filtration, releasing wastes and toxins from the blood and producing essential hormones, and so on. Kidneys are capable of performing these functions efficiently when they are in a healthy state, but the complications arise when they get impaired. In the condition of their impairment, they become incapable of carrying out their natural functions, and hence many-body complications can appear. So, it's necessary to cure a kidney disorder before it reaches its advanced level that is kidney damage and kidney failure eventually.
Ayurvedic treatment for kidney diseases is proving boon for kidney patients because it is beneficial and sets kidney patients free from the complications of kidney disorder naturally without casting any negative impact on the body. Karma Ayurveda is doing the job done for you by offering the best most effective Ayurvedic kidney disease treatment.
Here, you will get to know about one of our patients who got the best results by taking treatment from Karma Ayurveda. Mr. Akhilesh Bajpai, who belongs to Auraiya, a district in Uttar Pradesh, was suffering from kidney disease. As he was facing many health complications like persistent tiredness, pain in hands as well as feet, urination problems like inflammation during urination, low urine output, etc. After noticing these health complications, he contacted a doctor who recommended him to undergo a few blood tests. His test reports were showing abnormal parameters in which creatinine was increased to 1.77 mg/dL; other parameters like Sodium and Potassium were also imbalanced that was 135.79 mEq/L and 5.21 mEq/L respectively. Since he was taken treatment from Karma Ayurveda sometime before and due to its satisfactory results, he thought of giving Karma Ayurveda another try. That is how; he reached Karma Ayurveda for the sake of a better, permanent, and natural treatment.
Under the supervision of Dr. Puneet Dhawan, his treatment started after analyzing his test results. After taking treatment for a month, he started noticing the improvement in his health condition; as a result, he continued his treatment. A couple of months later, he got relieved from most of his complications. Again, he underwent some lab tests; in this, most of his parameters are normal, and his creatinine level dropped to 1.21 mg/dL, which is almost near to the normal value. That is how he got the best Ayurvedic kidney disease treatment again from Karma Ayurveda and living a kidney disease complications free life.
It is evident that how Karma Ayurveda cured the condition of kidney damage with the help of natural treatment and made the kidneys as healthy as a normal person.