IGA Nephropathy Treatment in Ayurveda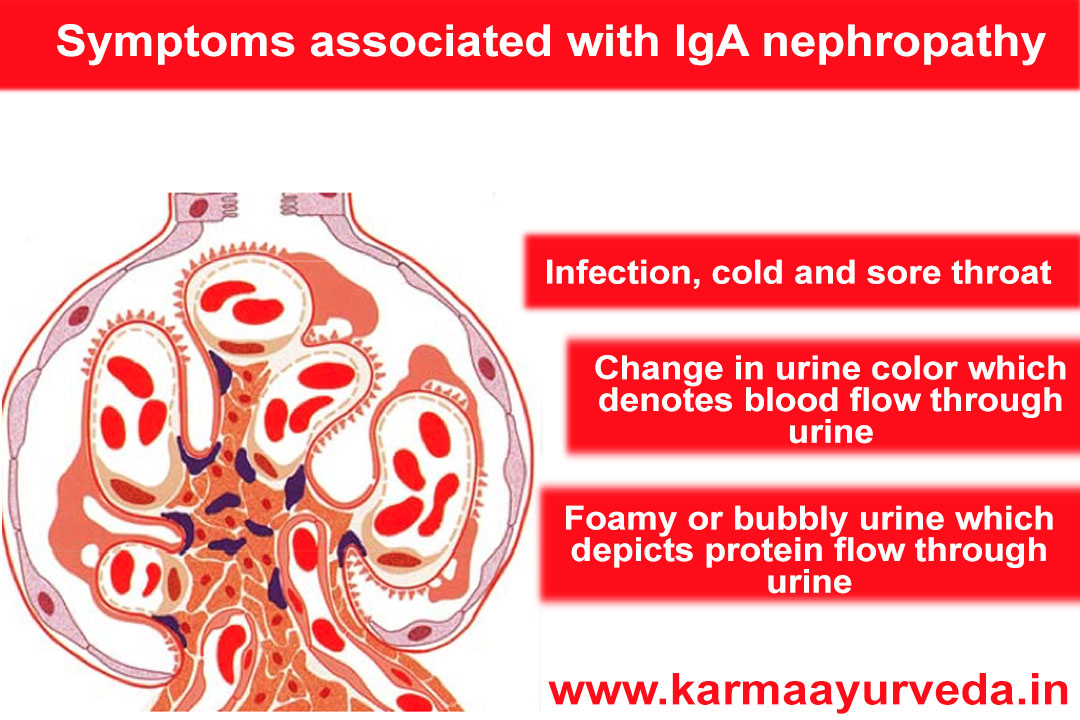 IGA nephropathy is also named as Berger's disease which affects the kidneys slowly but continuously. This works to damage the glomeruli which are the filters inside the kidneys and then result in chronic kidney disease or kidney failure. In this, IGA the protein starts to get clogged inside glomeruli and affects its overall functions. This continuous damage to glomeruli supports chronic kidney disease. IGA Nephropathy Treatment in Ayurveda
People often get confused about the right treatment for IGA nephropathy which can treat the dysfunction naturally. IGA nephropathy treatment in Ayurveda is the only effective treatment which doesn't let the patient face any complications at all. Before talking about the effectiveness of ayurvedic treatment for IGA nephropathy, let's understand the symptoms connected with it.
Symptoms associated with IGA nephropathy
There might be no symptoms appear at the initial stage of IGA Nephropathy. People can live with this disease for years without facing any symptoms. This is the reason by which people are unable to detect the dysfunction running inside their body. Besides this, some major sign or symptoms linked with IGA nephropathy are:
Infection, cold and sore throat
Change in urine color which denotes blood flow through urine
Foamy or bubbly urine which depicts protein flow through urine
These symptoms work as the sign for IGA nephropathy for which one needs to get immediate and most adequate treatment. IGA nephropathy can be located through urine test which helps to detect the changes in waste elimination. Other tests which help in the detection of IGA nephropathy are: Karma Ayurveda Reviews, Feedback and Complaint
Urine test- Your doctor will ask for the urine test to detect if there is a blood or protein flow with urine. This is the routine checkup which tells that if there is a need for further test or not.
Blood test- Creatinine level in the blood rises in the body of those who get diagnosed with IGA nephropathy.
Kidney biopsy- In this, the tissues from your body is being tested to denote that whether there is an IGA deposit inside glomeruli.
Iothalamate clearance test- This test helps your doctor to know that how well your kidneys are filtering the waste and excess fluid from the body.
How is IGA nephropathy treatment in Ayurveda effective?
Ayurvedic kidney disease is working as the right and most effective treatment for the kidney patients. It involves natural herbs which cure the damage and removes the deep causes permanently. It is the ancient science based on natural herbs which not let the patient face any kind of after effect and complications. "IGA nephropathy treatment in Ayurveda"
At Karma Ayurveda, Dr. Puneet Dhawan is concerned to provide such treatment to kidney patients that help them to be away from surgeries or painful treatment. Karma Ayurveda is making the people believe, that natural herbs can treat this dangerous disease without any surgery. Ayurvedic Medicine for Kidney Infection
It is the only ayurvedic kidney care institution which is offering a risk-free kidney treatment without dialysis. Dr. Puneet Dhawan had made a way to achieve his ultimate goal of "stop kidney dialysis" and is providing the benefit of his knowledge to many kidney patients. "IGA nephropathy treatment in Ayurveda"