Best Chronic Kidney Disease treatment in Ayurveda – A Cure for a Deadly Disease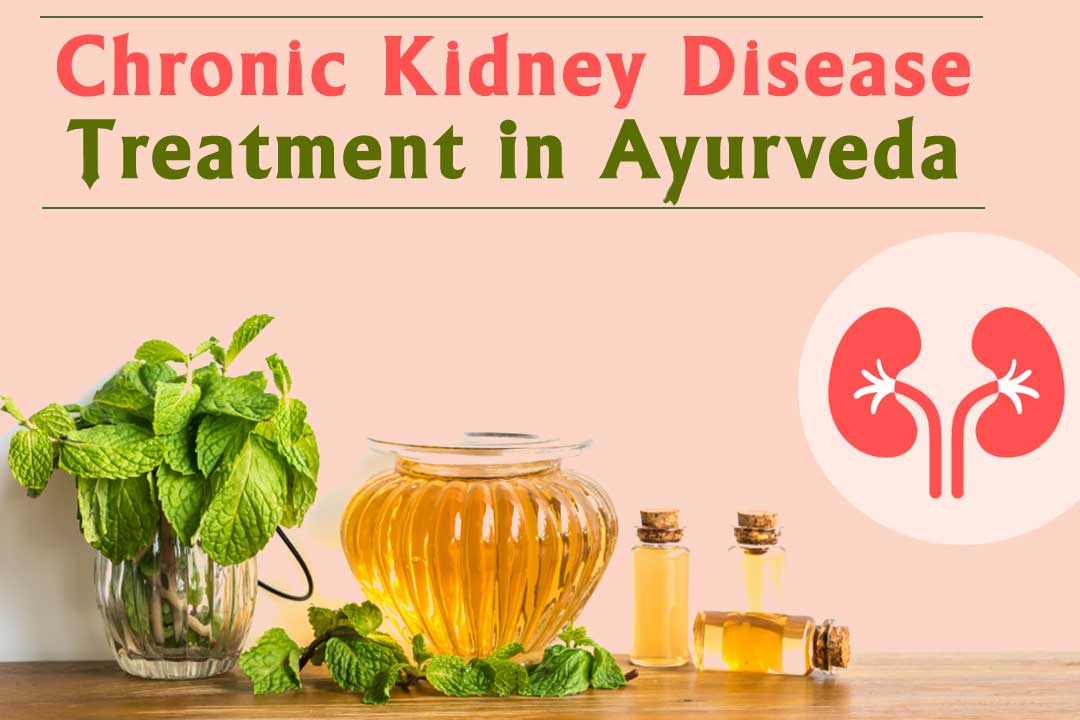 The kidneys are so important for us because they perform such necessary roles that keep us alive. If our body shows symptoms indicating kidney dysfunction then we should never ignore them as this negligence can get deadly. Our kidneys have to face many diseases and the most common of them is Chronic Kidney Disease (CKD). This disease is never recognizable at the initial stages as it never shows its symptoms in the beginning.  Being so rigid, this disease is deadly too as it never gets a right treatment in time. Here, artificial treatments misguide the kidney patients with ways like dialysis or transplant. The patients are unaware of the right treatment – Chronic kidney disease treatment in Ayurveda.
More about Chronic Kidney Disease treatment in Ayurveda
Chronic Kidney disease is a disease that starts with showing no symptoms and ends eventually attaining death. It damages the kidney silently without marking its presence. This disease shows its indication when it gets on later and bigger stages. Suffering from this disease, the kidneys are unable to cleanse the body effectively by eliminating the wastes and toxins. This leads to the accumulation of wastes and toxins that harms other parts of the body.
Following are some causing factors of kidney disease treatment that will help you to take precautions on time.
Factors Causing Chronic Kidney Disease
As per experts and specialist, kidney diseases are more likely to attack people in an age group of 25 to 50 years. These people are the ones who should not miss any information about kidney diseases. Every year, thousands of people die because of kidney disease as they were unable to get the right chronic kidney disease treatment. But precaution is better than cure; let's know the most common factors of kidney disease that can help us to take precautions on time –
High Blood Pressure
Diabetes
Repeated urine infection
Lupus
Malformation
Glomerulonephritis
As we know that diabetes and high blood pressure are the most common causative factors of chronic kidney disease as they affect the normal functioning of the kidneys and other organs too. Ayurvedic treatment for chronic kidney disease can surely control diabetes and rising levels of blood pressure.
Symptoms associated with Chronic Kidney Disease
Above we talked about the precaution, but what if that aspect gets missed out. Following are symptoms of Chronic Kidney Disease that will help you to identify the disease and to take the right treatment.
Tiredness
Less concentration
Poor appetite
Sleeplessness
Muscle cramping
Swelling in feet
Puffed eyes
Dry and itchy skin
The Appropriate Chronic Kidney Disease Treatment in Ayurveda
Nowadays, people are fond of artificial treatment. They choose artificial medicines for each and every disease be it, cold, cough, kidney disease or even cancer. They need to understand that allopathic medicines or artificial treatment never cure the problem. This treatment only suppresses the symptoms of the disease. On the other hand, An Ayurvedic treatment removes the disease from the roots. It is the only treatment that promises long-lasting solutions.
Karma Ayurveda is an Ayurvedic kidney care institution that provides only Ayurvedic medicines for kidney disease. Since 1937, the institution has cured more than 35000 kidney patients with its Ayurvedic medicines that are completely natural and herbal. Apart from medication, the institution also guides with right lifestyle changes and a mandatory eating regimen.
Dr. Puneet Dhawan, the pillar of Karma Ayurveda is curing the kidney patients with correct chronic kidney disease treatment in Ayurveda. He has a belief that Ayurveda has the ability to cure kidney diseases without kidney dialysis or a kidney transplant. He has proved the same thousands of times by leading the kidney patients to a healthy and risk-free life based on only Ayurvedic guidelines.