Stage 4 Kidney Disease Life Expectancy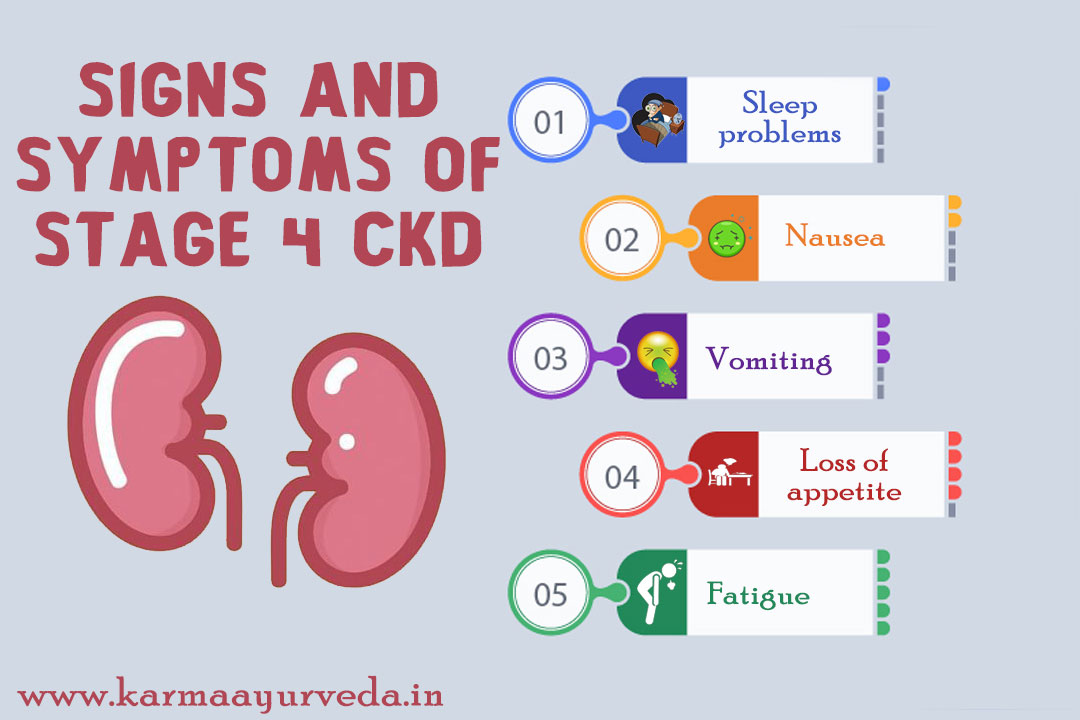 Chronic kidney disease is progressive kidney damage that is slow and steady. The kidneys tend to lose their function in this condition. Kidneys, the tiny organs, conduct various functions in the body like
Formation of urine
Maintaining a correct balance of acid and base
Secreting certain specialized organs like

Renin, to regulate the blood pressure and blood volume of the body
Erythropoietin, to help in the production of red blood cells
Vitamin D, to absorb and reabsorb calcium in the blood "Stage 4 Kidney Disease Life Expectancy"
The advent of chronic kidney disease disturbs the above-mentioned functions of kidneys. It is a 5 leveled kidney impairment that progresses with reduced GFR. These are:
Stage 1 – normal or high GFR > 90 mL/min
Stage 2 – Mild Decrease GFR = 60-89 mL/min
Stage 3 – Moderate Decrease GFR = 30-59 mL/min
Stage 4 – Severe Decrease GFR = 15-29 mL/min
Stage 5 – End-Stage Kidney Disease GFR < 15 ml/min "Stage 4 Kidney Disease Life Expectancy"
STAGE 4 KIDNEY DISEASES:
Stage 4 kidney disease is known to be an advanced stage of CKD. It is characterized by severe damage of kidney with GFR between 29-15ml/min. This indirectly means that kidneys have lost 85-90 percent of function. This is a life-threatening condition that demands significant treatment to increase survival.
Reduced kidney function results in the accumulation of waste products in the blood that can further lead to several complications like:
High blood pressure
Anemia
Bone disease
Cardiovascular disease
Heart attack
SIGNS AND SYMPTOMS OF STAGE 4 CKD:
The 4th stage of chronic kidney disease develops various signs such as: "Stage 4 Kidney Disease Life Expectancy"
Sleep problems
Nausea "Chronic Kidney Disease Treatment"
Vomiting
Loss of appetite
Numbness in the toes or fingers
Fatigue "Stage 4 Kidney Disease Life Expectancy"
Edema of extremities
Shortness of breath
Loss of concentration
TREATMENT FOR STAGE 4 KIDNEY DISEASE:
Allopathy treats this kidney impairment through dialysis or a kidney transplant.
Dialysis: Dialysis is a man-made technique to filter blood and remove waste. It is known to be of two types Hemodialysis and Peritoneal dialysis. Hemodialysis is a commonly opted dialysis type. It is conducted by using a dialyzer (artificial kidney) through which blood passes and filtered blood get infused into the body.
Peritoneal dialysis has rarely opted for dialysis treatment. The use of specialized filtering fluid is prime in this procedure.  This filtering fluid is infused in the patient's abdomen that filters the blood and gets excreted.  "Stage 4 Kidney Disease Life Expectancy"
Kidney Transplant: This is the last option advocated by the doctors to the kidney patient. This is a surgery that is taken up to replace damaged kidney with the new donated kidney.
The patient suffering from stage 4 chronic kidney disease usually fails to survive more than a year (without dialysis). With dialysis, he increases his survivability by 2-5 years.  "Stage 4 Kidney Disease Life Expectancy"
NATURAL HERBAL REMEDIES:
Ayurveda has a distinctive outlook in curing kidney impairments. It uses nature's products in ayurvedic medicines that help in restoring the real kidney function without any complications. Stage 4 kidney disease treatment in Ayurveda involves herbal medicines with dietary tips. These tips include:
Reduction in potassium and phosphorus-rich foods
Limiting the intake of protein sources
Cutting down on sodium sources
Restrictive intake of salty or sodium dense foods
Avoiding alcohol and smoking Karma Ayurveda Reviews and Feedback, Complaint
Karma Ayurveda is a well-known kidney disease treatment center that is presently working under Dr. Puneet Dhawan. The treatment measures of the center are the safest and kidney-friendly. The center has healed thousands of kidney patients of dialysis with natural measures. "Stage 4 Kidney Disease Life Expectancy"