Karma Ayurveda Reviews, Karma Ayurveda Patients Reviews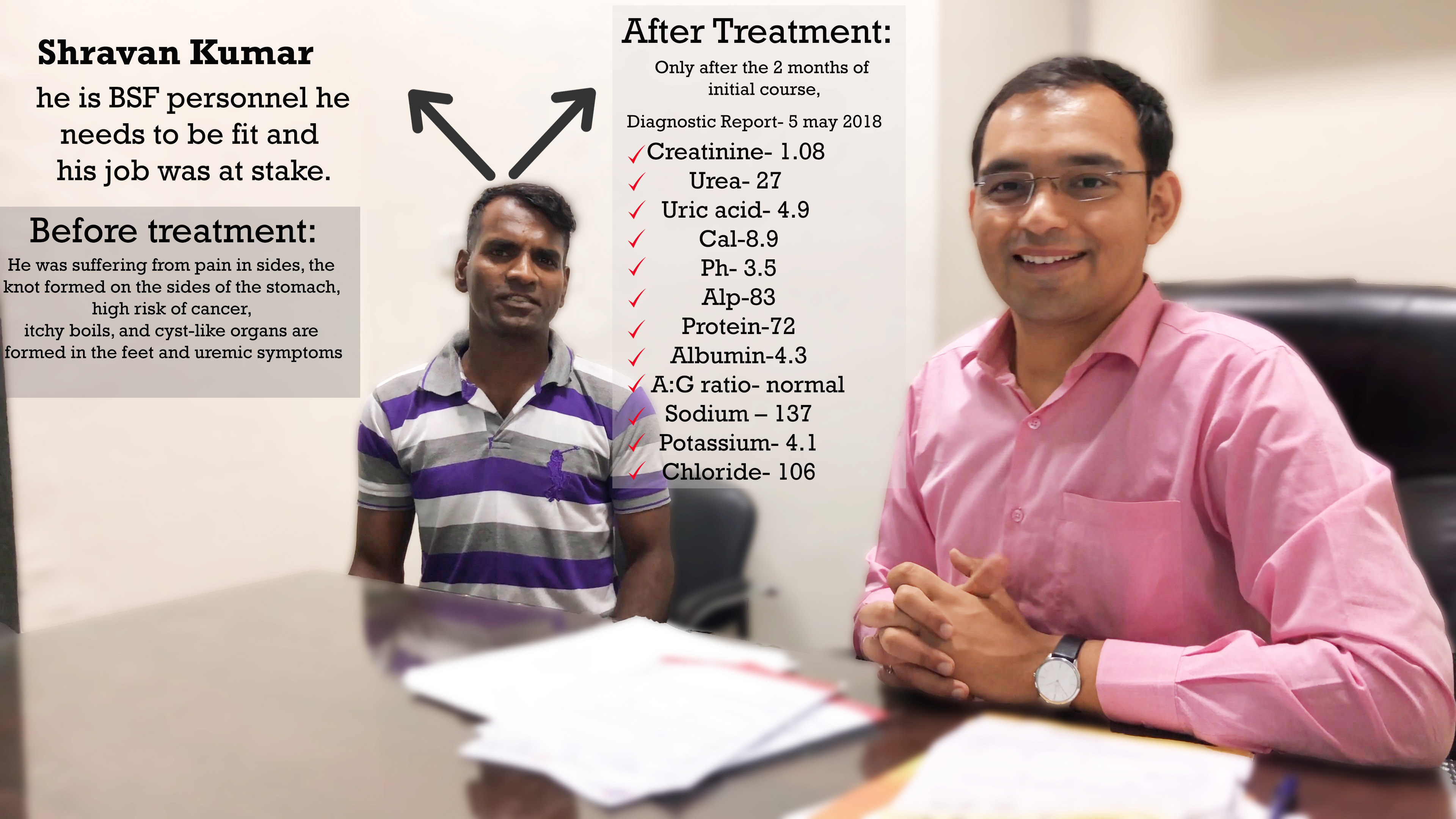 11 May 2018 – Patient Shravan Kumar Reviews
The kidneys clean the blood by working as a filter to remove water and wastes from the body. Kidney disease damages these filters so they don't do their job properly. Kidney disease usually affects both kidneys and may also damage other parts of the body, such as the heart and liver. When enough of the filters are damaged, the body will fill up with excess wastes and water. This is called kidney failure. It can happen when you have kidney disease for a long period of time (chronic kidney disease). Kidney failure is fatal if not treated by either dialysis or a kidney transplant. "Karma Ayurveda Reviews"
About Patient: Shravan Kumar who is originally from Rajasthan is BSF personnel and stays in Dwarka, New Delhi for quite some time now. He was suffering from certain problems which if not treated on time could have led to kidney failure. As he is BSF personnel he needs to be fit and his job was at stake. Troubled by his problems he first went for treatment at Jiva Ayurveda but there was no improvement in his health or kidneys. Given below is the synopsis of his health before and after the treatment. "Karma Ayurveda Reviews".
Before treatment:
He was suffering from pain insides, the knot formed on the sides of the stomach, high risk of cancer, itchy boils, and cyst-like organs are formed in the feet and uremic symptoms
2 months another Ayurvedic treatment from Jiva Ayurveda- no improvement
A knot formed in the stomach
Impressed by the trust and name of Karma Ayurveda, he came for Ayurvedic treatment from us. You will be amazed by the result he experienced after an initial course of herbal medicines. "Karma Ayurveda Reviews".
After Treatment:
Only after the 2 months of initial course, the knot was healed and there was relief from the itchy boils but he continued taking medicines as his creatinine was high and problem in the liver. Subsided from all the symptoms.
Physically fit and healthy according to the lab reports- Lal Path Diagnostic Report- 5 may 2018
 Creatinine- 1.08
 Urea- 27
 Uric acid- 4.9
 Cal-8.9
 Ph- 3.5
 Alp-83
 Protein-72
 Albumin-4.3
 A:G ratio- normal
 Sodium – 137
 Potassium- 4.1
 Chloride- 106
Analysis: All the reports after the treatment were normal and the patient was fit and healthy to continue his job.
 Creatinine-urea and electrolyte were deemed normal
 Normal blood test – fit and healthy person
 GFR test- 5th February 2018
 GFR- 77.3 ml/min (increase) 70 to 77 (good improvement)
Shravan a BSF personnel is one of the many of our patients who achieved great results by the treatment from Karma Ayurveda. Dr. Puneet Dhawan has been sharing his insights and providing guidance to all kinds of kidney patients. The treatment provided by them is 100% natural and herbal without any side effects on the body. "Karma Ayurveda Reviews"